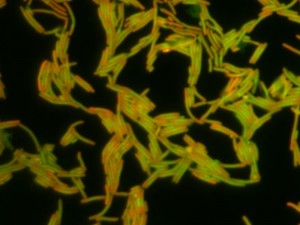 The first two images show the changes that occur when E. coli O157:H7 strains are exposed to sublethal concentrations of the antibiotic ciprofloxacin. Ciprofloxacin induces cell elongation, also called filamentation. In addition, the cipro causes the bacteria to become more "sticky" and they line up forming interesting patterns, almost woven like a textile. Bacteria were stained with acridine orange stain and photographed by fluorescence at 1000 X magnification.
The third image shows EHEC secreted proteins that formed into rope-like structures as the sample dried out slowly under the cover slip. An artifact turned into art work!
This post was submitted by John K. Crane, MD, PhD.